Nov 22, 2018 08:48 AM Central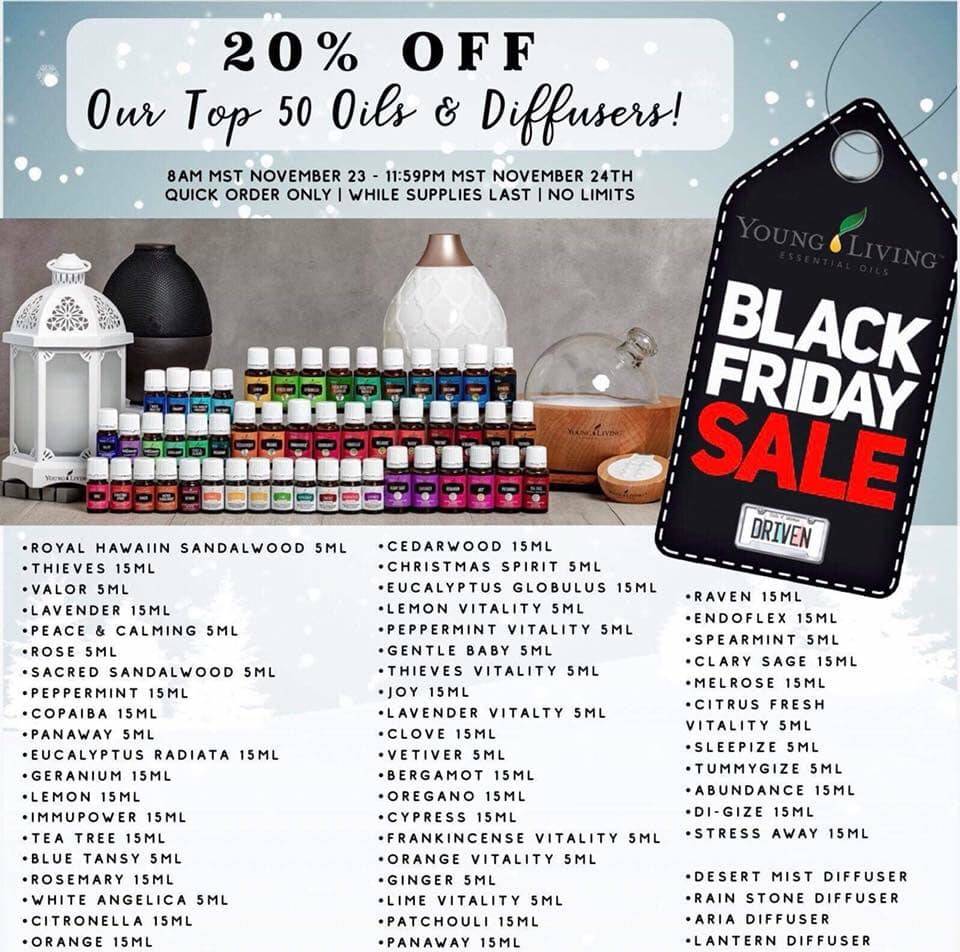 Are you ready to see the Black Friday deals?!
They always spoil us on Black Friday but I have never ever seen anything like this!
> 20% off TWENTY-EIGHT 15 mL Bottles
> 20% off FIFTEEN 5 mL Bottles
> 20% off EIGHT Vitality Oils
> 20% off FOUR Diffusers
That's over FIFTY discounted products! WHAT?!
Each diffuser comes with a 5 mL of Peppermint and Tangerine and some of the discounted oils are ones I have never seen on sale before... Rose, Blue Tansy, Sacred Sandalwood, Bergamot, Thieves, PanAway, Copaiba, KidScents… Such great oils!!
You don't want to be late on these... they WILL sell out quickly!
> Quick Order Only.
> Items will already be discounted. No code is needed.
> You cannot use ER Points for sales but you will receive PV for the items you purchase.
> Starts on Friday 11/23 at 8:00 AM MST.
> Ends on Saturday 11/24 at 11:59 PM MST.
> No Limits. While Supplies Last.
> Discounts will be on wholesale prices for members and retails prices for retail customers.
They are also releasing a BRAND NEW collection of rollers that includes the coveted RutaVaLa that you cannot purchase on its own. It's well loved for getting anyone and everyone to sleep in so many homes! The Roller Collection will include Thieves, Stress Away, RutaVaLa, Valor, Breathe Again, Deep Relief and Tranquil for just $199.75 wholesale. Full PV! And, yes! This product is sticking around and will be available on ER starting 12/1.
EXTRA NOTE - Cyber Monday deals are coming soon, too! I will be traveling so I am not sure if I will be able to reach out to let you know the specials so be sure to be checking the Believe, Lemon and Lavender or The Frank and Valor Hang Out Facebook pages or if you are not on Facebook you can check on
https://www.frankandvalor.com/black-friday-cyber-monday-2018
to find out what the deals will be!
Happy Thanksgiving! I am thankful for each and everyone of you!